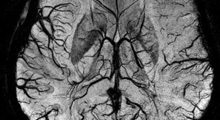 Diffusion Weighted Imaging
Diffusion weighted imaging (DWI) is the most sensitive study for acute strokes. DWI can usually confirm the presence of a stroke within 30 minutes of onset of symptoms. Because of the sensitivity of DWI to the orientation of white matter in the brain, DWI can also be used to create a 3D map of nerve fibers as they travel through the brain. This nerve fiber map can be very useful in planning brain surgery.
Susceptibility Weighted Imaging
Susceptibility Weighted Imaging (SWI) can image the variations in tissue response to magnetic fields. Because of the magnetic properties of the iron in blood, SWI is very sensitive to the presence of hemorrhage (bleeding) which can be caused by head injuries (concussion). SWI is also used to evaluate for bleeding in vascular malformations and tumors.