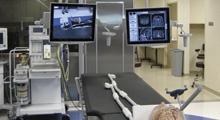 Intraoperative Neurosurgery Imaging
Intraoperative MRI scanning allows neurosurgeons to view the progress of resection during brain tumor surgery. This guidance facilitates more complete tumor removal with less risk of damage to adjacent tissues. One of our diagnostic neuroradiologists is present during all intraoperative MRI procedures performed at Abbott Northwestern Hospital in Minneapolis. We collaborate with the neurosurgeon during surgery to optimize surgical results.
The combination of preoperative functional MRI and intraoperative MRI has been utilized more than 600 times since the installation of the intraoperative MRI scanner at Abbott Northwestern Hospital. New computer software from Brainlab allows the neuroradiologist to combine anatomic and functional information in a three-dimensional preoperative plan. Physiologic data may include MR spectroscopy, cerebral blood flow and perfusion, diffusion tensor imaging with white matter fiber tracking, and functional motor and language mapping. This physiologic information can be used to more precisely target areas of tumor for biopsy or resection, helping to avoid damage to critical brain regions during surgery.