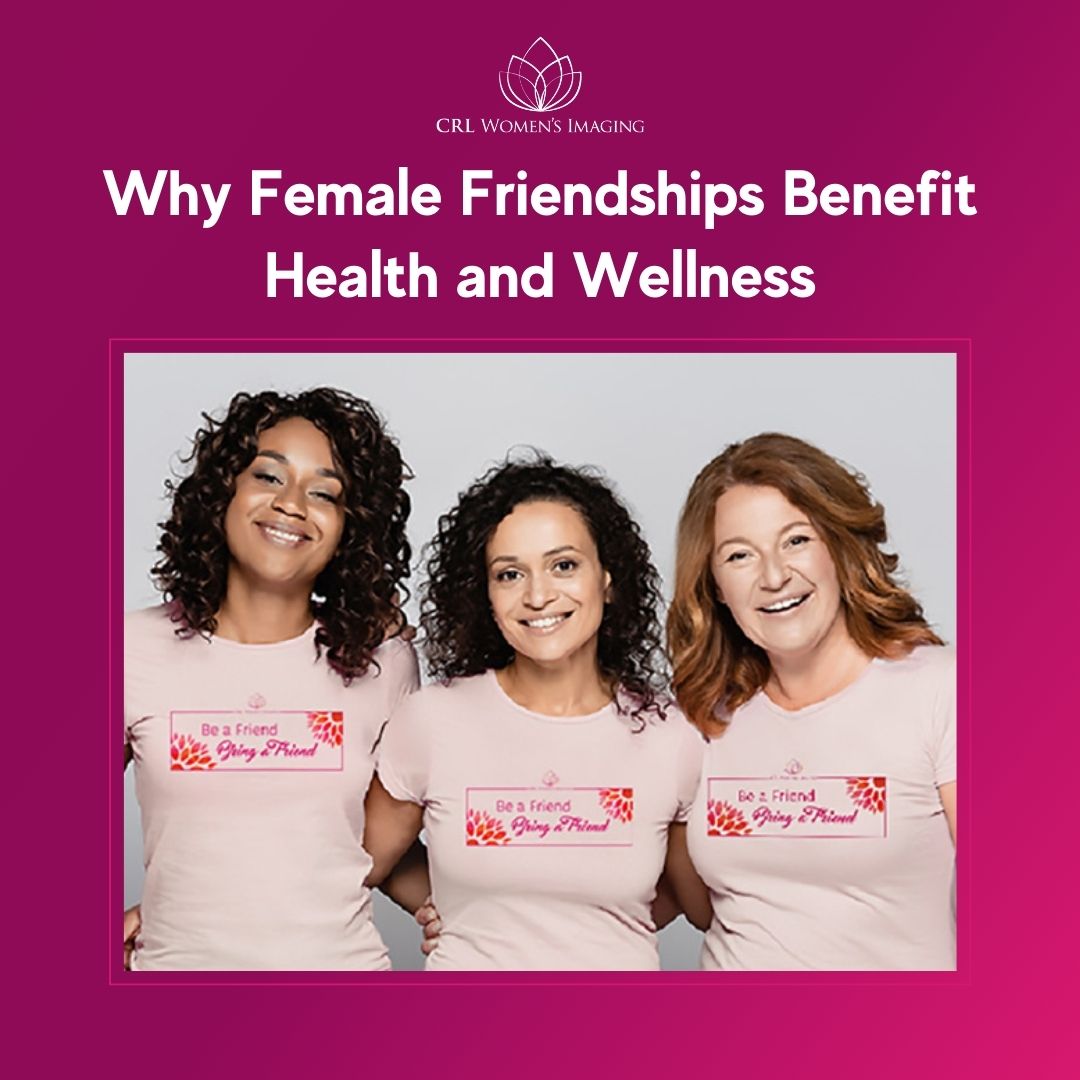 Why Female Friendships Benefit Health and Wellness
Did you know that mammograms and friendships have something in common? They both have the ability to help women live longer. Women have realized the great value of female friendships on their journeys through life. But did you know that spending time with these women can provide benefits for mental and physical health and wellness and even improve longevity?
Spending Time with Girlfriends Is Good for Your Health
By nurturing connections that go beyond simple companionship, these relationships often play a vital role in each other's entire well-being. According to UCLA research, spending time with female friends decreased cortisol levels (the stress hormone) and raised serotonin levels, a neurotransmitter that aids in the treatment of depression, relieves stress, and fosters an overall sense of well-being. The study also underscores the positive effect friendships have on health and longevity.
For women, spending time with friends helps us to be ourselves without feeling the pressure of society's extra stress, pressure, and frantic pace. In our modern world of Twitter, TikTok, Facebook, Instagram, and now Threads, not to mention texting, remote work, and virtual communications, in-person connection with girlfriends helps to ease feelings of isolation and contributes to our sense of wellness.
It also helps that women are innately empathetic and have an extraordinary capacity to provide emotional support during stressful moments in life. We can resonate and relate when other women share something significant or delicate. We feel seen, heard, and understood when we share with our close friends this way, and this alone often makes us feel better, supported, and eases the burden.
Supportive Female Friends Make a Difference
When it comes to matters relating to health, this capacity is especially meaningful. A woman's friends can have an immense impact by supporting one another to maintain a healthy lifestyle that includes eating well, exercising, and routine screenings, particularly highlighting the significance of yearly mammograms.
For some women, the prospect of getting a mammogram can evoke feelings of fear and anxiety, especially if they have personal experience with breast cancer or have loved ones who have battled the disease. A female friend's empathy and support can go a long way toward easing the anxiety and uncertainty that may come with getting a mammogram by fostering an atmosphere safe for open discussions about health issues and encouraging one another to prioritize annual checkups.
Today, it's more important than ever to make real, in-person connections, and Bring A Friend Mammograms allow you to do just that by creating an opportunity to support a friend who might need encouragement or to remind a friend to take care of herself who might otherwise overlook this important screening due to her hectic schedule.
Be A Friend
A significant number of women will be diagnosed with breast cancer during their lifetime. We've all heard the statistics that one in eight women will develop breast cancer at some point in their lives, but did you know that every year, about 4500 women in Minnesota are diagnosed with the disease? One of these women may be a friend, sister, mother, neighbor, or coworker.
This is where the power of friendship is put into action. Studies reveal that women who receive annual screening mammograms have a 30% to 40% higher chance of surviving breast cancer. So, let a friend know how much you care by inviting her to have a mammogram the next time you schedule one for yourself. Or even better, gather a few of your girlfriends and make it a girl's day out. Bring A Friend Mammogram appointments can be completed in 15-20 minutes, leaving plenty of time for coffee, lunch, or shopping.
More Information
Call or click the link below to find out more or to schedule your Bring A Friend Mammogram appointment with up to three of your friends.
Phone: 952-915-4320

About CRL Women's Imaging
CRL Women's Imaging is a leader in outpatient imaging and designated as Breast Center of Excellence by the American College of Radiology (ACR).  Our team of dedicated, board-certified breast imagers with broad expertise and a genuine interest in breast imaging and our knowledgeable technologists certified in mammography and ultrasound are committed to provide our patients with the high-quality compassionate care they can trust.
"Early detection of breast cancer saves lives. And with the tools of 3D mammography/tomosynthesis and supplemental screening breast ultrasound we are better equipped than ever to positively impact women's health."  – Jillian Karow, MD, Medical Director, CRL Women's Imaging