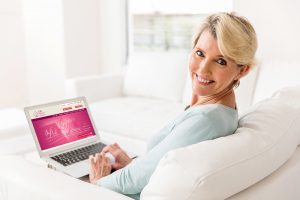 You may have heard recently about an adjunct breast imaging screening called the Abbreviated Breast MRI and wondered what is it and am I candidate for this screening. We'd like to provide you with some important information so you can make that decision. First of all, the Abbreviated Breast MRI is not a replacement for mammography but rather a supplemental breast screening for women who have dense breast tissue and are at average risk of cancer, having less than 20% lifetime risk. The MRI uses a powerful magnetic field and radio waves to create detailed, cross sectional images of the breast. This level of detail allows the radiologist to view abnormalities that otherwise may not be visible on the mammogram.               ­­­
Mammograms are still the first step for annual screening for breast cancer. However for those women with dense breasts, cancer may be obscured by normal breast tissue on the mammogram. Abbreviated Breast MRI uses a different type of imaging that shows biological changes in the breast caused by breast cancer.

Short Scan Time and No Physician Referral
The Abbreviated Breast MRI scan takes about 15 minutes as opposed to the Breast MRI, which takes 30-45 minutes. Prior to the exam, an IV will be placed in order to administer contrast. Abbreviated Breast MRI scan does not use radiation or breast compression. Like a mammogram, it does not require a physician referral.
For women who have had a normal mammogram within the last 12 months, of average risk (with a lifetime risk below 20 % and who are not BRCA1 or 2 positive), family history of breast cancer, and/or dense breast tissue the Abbreviated Breast MRI provides an excellent next step in your annual screening routine.
About CRL Women's Imaging
CRL Women's Imaging is a leader in outpatient imaging and designated as Breast Center of Excellence by the American College of Radiology (ACR).  Our team of dedicated, board-certified breast imagers with broad expertise and a genuine interest in breast imaging and our knowledgeable technologists certified in mammography, ultrasound, and MRI are committed to provide our patients with the high-quality compassionate care they can trust.
"Early detection of breast cancer saves lives. And with the tools of 3D mammography/tomosynthesis, supplemental screening breast ultrasound and abbreviated breast MRI we are better equipped than ever to positively impact women's health."
 – Damon Shearer, DO, Medical Director, CRL Women's Imaging