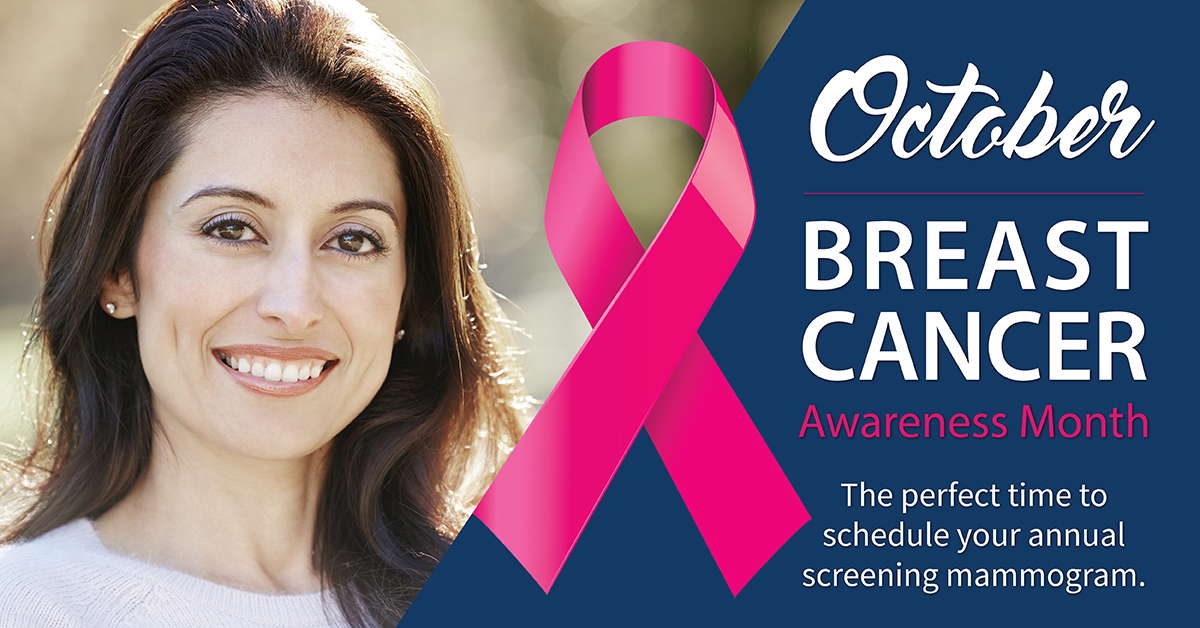 October is Breast Cancer Awareness Month
National Breast Cancer Awareness Month is a worldwide effort to bring awareness of the impacts of breast cancer, show support to those affected, and remind women to take an active role in their breast health.
Breast cancer is the second most common cancer in American women. The CDC reports indicate that approximately 255,000 women are diagnosed with breast cancer in the US each year. We know that annual screening mammograms are an effective tool in the fight against breast cancer and save lives by detecting cancer early at its most treatable stage.
What is Mammography
Mammography is a key component in diagnosing breast disease in women and plays an essential role in the early detection of breast cancer. Screening mammography can assist your physician in detecting breast cancer even if you have no complaints or symptoms. It can reveal changes in the breast up to two years before a patient or physician identify them on an exam.
Types of Mammography
According to the Society of Breast Imaging, women who receive screening mammograms are 30% to 40% less likely to die of breast cancer than those who do not undergo screening.
You have choices when it comes to scheduling your mammogram:
2D Mammography is an excellent screening and detection exam where a single two-dimensional image is taken. While 2D mammograms remain the current standard of care, they can result in the occasional need for additional imaging more often than 3D Mammography.
3D Mammography (Digital Breast Tomosynthesis) creates a three-dimensional image of the breast and offers exceptional image clarity and detail by imaging the breast in several 'layers.' By looking at each layer separately, a potential cancer is less likely to be obstructed from view by overlapping breast tissue. This results in fewer biopsies and additional tests as well as increased accuracy.
Whether you choose 2D or 3D Mammography, you can expect the same convenient and efficient mammography experience.
Who Should Get A Mammogram
If you are age 40 or older, we urge you to schedule your mammogram today. For women with a family history of breast cancer, please consult with your healthcare provider as they may recommend screening at an earlier age.
Experience the CRL Women's Imaging Difference
At CRL Women's Imaging, our expert radiologists specialize in women's imaging and are dedicated to providing comprehensive breast imaging and diagnostic services in a caring and compassionate environment.
Each of our technologists is passionate about spending quality time with every patient allowing us to tailor the experience specifically to their needs.
We offer patient navigator services during the appointment and beyond for all patients needing additional guidance and support.
Schedule Your Mammogram
At CRL Women's Imaging we make scheduling your mammogram easy, offer a convenient location with free parking and, in most cases, provide same day results.
CRL Women's Imaging
6525 France Avenue South
Suite 110
Edina, MN 55435
Hours: Mon – Fri: 7:00am – 5:00pm
Phone: 952-915-4320
About CRL Women's Imaging
CRL Women's Imaging is a leader in outpatient imaging and designated as Breast Center of Excellence by the American College of Radiology (ACR).  Our team of dedicated, board-certified breast imagers with broad expertise and a genuine interest in breast imaging and our knowledgeable technologists certified in mammography and ultrasound are committed to provide our patients with the high-quality compassionate care they can trust.
"Early detection of breast cancer saves lives. And with the tools of 3D mammography/tomosynthesis and supplemental screening breast ultrasound we are better equipped than ever to positively impact women's health." 
– Medical Director, CRL Women's Imaging