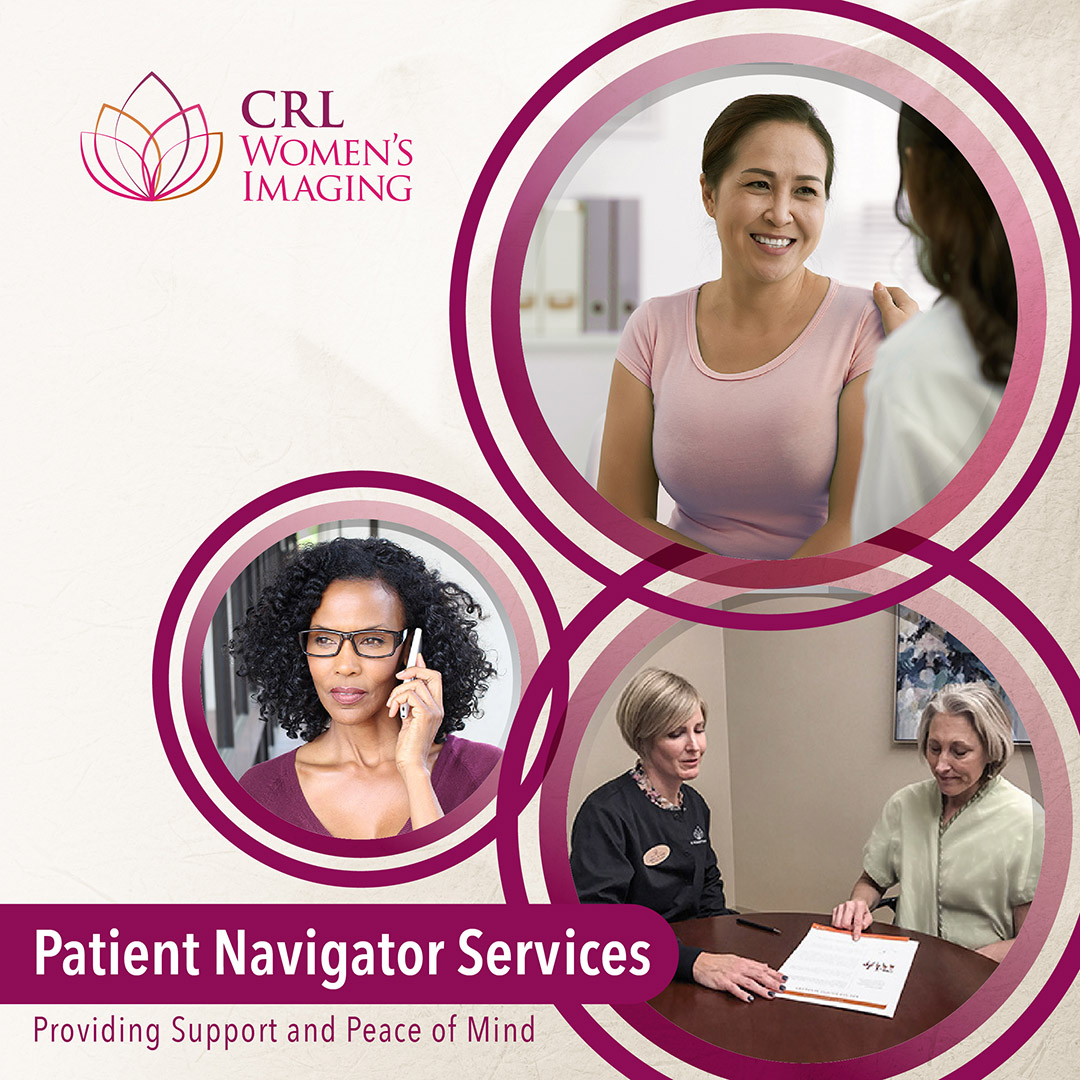 Patient Navigator Services: Providing Support and Peace of Mind
At CRL Women's Imaging, we understand that healthcare can be a complex and sometimes overwhelming journey. We believe that every woman deserves comprehensive and compassionate care, especially when it comes to matters of breast health. With patient navigator services, we are able to provide patients with care and guidance that extends well beyond the time spent in our clinic.
Experience The Difference
One of the key advantages CRL Women's Imaging provides our patients is the personalized attention each patient receives from technologists and radiologists who specialize in women's imaging. We believe in spending the necessary time with you to address your unique concerns. This means you won't feel rushed, and all your questions will be answered.
Compassionate Guidance
We understand that the prospect of medical tests and procedures can be daunting, particularly when it comes to breast health and are pleased to provide patient navigator services as an additional resource. Rest assured, we're here to ease your worries and provide you with the support you need.
Care Coordination
Our patient navigator plays an essential role in coordinating your care with other healthcare providers. We understand that your healthcare journey may involve multiple steps, from diagnostic imaging to consultations with specialists. Our patient navigator ensures that all necessary appointments and tests are planned in a timely and organized manner to minimize potential stress.
Timely Communication
Waiting for test results can be an anxious time. Our patient navigator works diligently to ensure you and your healthcare provider receive your test results as quickly as possible. We understand the importance of timely information, allowing you to make informed decisions about your healthcare.
Access to Information and Community Resources
In addition to addressing your immediate healthcare needs, our patient navigator provides patient education and can connect you with valuable community resources that may benefit you on your healthcare journey.
Trusted Partner
At CRL Women's Imaging, we're dedicated to providing women with the highest level of care, and our patient navigator services are just one example of our commitment to your well-being. When you choose us for your healthcare needs, you're choosing a team that will be by your side every step of the way. You're not alone on your healthcare journey – we're here to support you, answer your questions, and ensure you receive the care you deserve. Your health and peace of mind are our top priorities, and we look forward to being your trusted partner in women's imaging and healthcare.
About CRL Women's Imaging
CRL Women's Imaging is a leader in outpatient imaging and designated as Breast Center of Excellence by the American College of Radiology (ACR).  Our team of dedicated, board-certified breast imagers with broad expertise and a genuine interest in breast imaging and our knowledgeable technologists certified in mammography and ultrasound are committed to provide our patients with the high-quality compassionate care they can trust.
"Early detection of breast cancer saves lives. And with the tools of 3D mammography/tomosynthesis and supplemental screening breast ultrasound we are better equipped than ever to positively impact women's health."
– Medical Director, CRL Women's Imaging