CRL NIR discusses less-known causes of stroke
MINNEAPOLIS (KARE11), November 21, 2016 – The risks for a stroke aren't just smoking, high blood pressure, being overweight, your age or family history. The recent death of model, Katie May, who died of a stroke at 34-years old has brought some of the lesser-known causes of stroke to the forefront.
Consulting Radiologists, Ltd. (CRL) Neurointerventionalist, Dr. Josser E. Delgado located at Abbott Northwestern Hospital, joined the KARE 11 News at 4 about the hidden factors of stroke, what to look out for and how to prevent them from happening.
Q: What are some of the lesser-known causes of stroke?
JD: Lesser-known causes of stroke include trauma to the blood vessels in the neck (sometimes from chiropractic manipulation), inflammation of the blood vessel wall, inherited disorders that make people more likely to have blood clots and congenital conditions such as sickle-cell disease.
Q: Why are we seeing an increase of strokes in people between 20-55? 
JD: There may be a perceived increase in the number of strokes among young adults because we are becoming better at preventing strokes in older adults, thanks to increased awareness, implementation  of stroke prevention measures, as well as the availability of better blood-thinning medications – so the proportion of lesser-known causes of stroke, which typically affects younger adults, is increasing as the proportion of more common causes of stroke, which typically affects older adults, is decreasing. In addition, we are beginning to see the consequences of increasing rates of childhood obesity among the general population, which leads to high blood pressure, diabetes and high cholesterol as children become young adults, all of which are common causes of stroke.
Q: Are there different types of stroke?
JD: There are two main types of strokes: ischemic (not enough blood flows to the brain, most common type); and hemorrhagic (blood leaks from blood vessels either into in the brain or around the brain, usually caused by rupture of brain aneurysms or abnormal blood vessels in the brain.
Q: Who is more at risk and what can we do to prevent strokes?
JD: People who smoke, have high blood pressure, diabetes, high cholesterol or are overweight or obese are at higher risk of stroke. So, improving one's diet, getting more exercise and quitting smoking are all very important in preventing strokes from occurring in the future.
Q: What is new in the rehabilitation of stroke victims? 
JD: Since early 2015, clinical trials have shown that when patients come to the hospital with big strokes from occlusion of the large blood vessels in the brain, going in to remove the blood clot quickly and restore blood flow to the brain can speed their recovery and increase the chances that they will be independent again. This has been a revolution in the field of acute stroke care.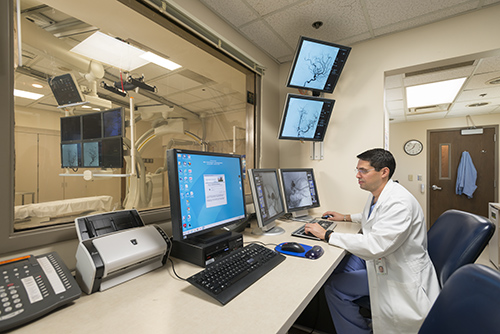 Dr. Delgado at work in the angio suite located in Abbott Northwestern Hospital.
Watch the full interview here.
Story by Pat Evans of KARE 11. Read the full article here.