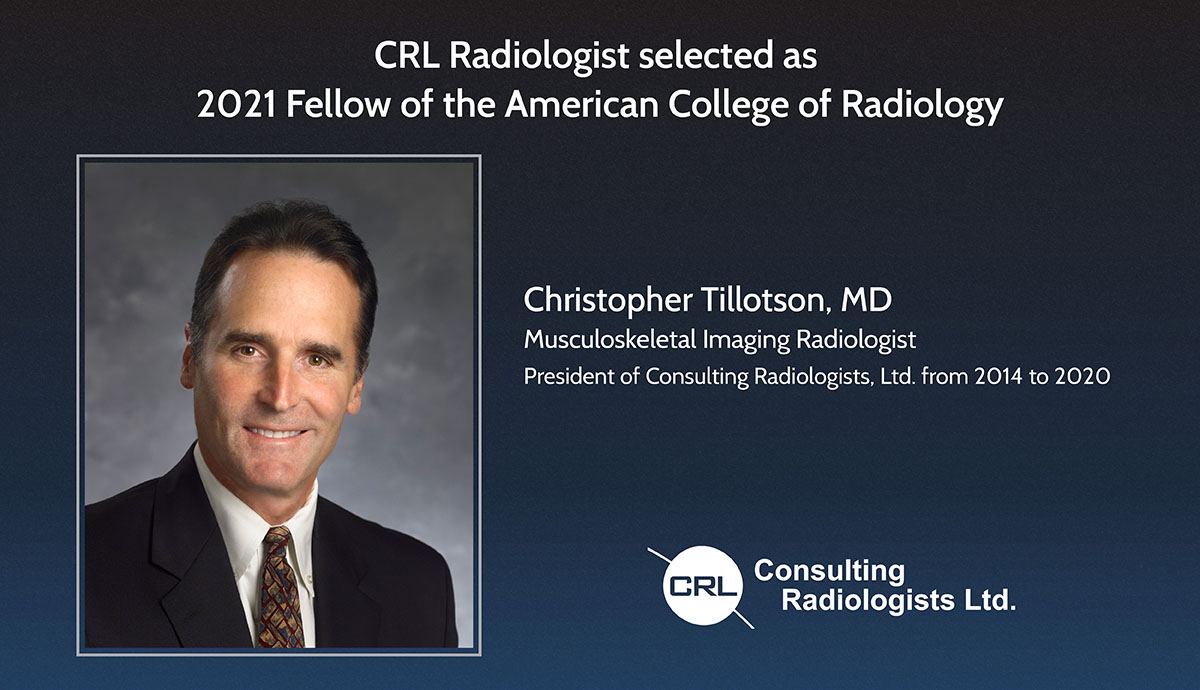 CRL congratulates Dr. Christopher Tillotson for selection as 2021 Fellow of the American College of Radiology (FACR)
Consulting Radiologists, Ltd. (CRL) is proud to announce that Dr. Christopher Tillotson, musculoskeletal imaging radiologist and CRL's past president, has been selected as Fellow of the American College of Radiology (FACR). This prestigious award is one of the highest honors that the American College of Radiology (ACR) bestows on its College members who demonstrate a history of service to the ACR, organized radiology, teaching, and/or research.
Dr. Tillotson's service to the field of radiology began in 1989 when he joined a practice of 18 radiologists serving 4 on-site locations. Today the practice has grown to 70 board-certified radiologists providing on-site radiology services for 22 partner hospitals and clinics, and teleradiology-based interpretation services for over 100 healthcare facilities in Minnesota and surrounding areas.
In his tenure as radiologist, Dr. Tillotson has enjoyed the ability to completely subspecialize in musculoskeletal imaging, an opportunity granted by CRL's robust IT infrastructure and his excellent partners, however, he is most proud of his nearly 7 years as CRL's president and the trust placed in him by his partners to lead and promote the practice.
The FACR is awarded to only about 10 percent of College members and often to those in the area of academia so it is a particular honor for Dr. Tillotson who is a predominately private practice radiologist to have his contributions recognized in the area of large group practice, management and development.
The 2021 Fellow of the American College of Radiology convocation ceremony will be held on May 16, 2021 during the ACR Annual Meeting.