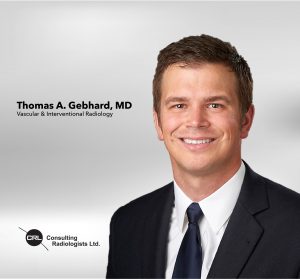 Dr. Thomas A. Gebhard joins the Vascular & Interventional Radiology section at Consulting Radiologists, Ltd.
After medical school at the University of Texas Medical School at Houston, Dr. Gebhard completed his internship at Lyndon B. Johnson Hospital in Houston, TX. He went on to complete his residency in Diagnostic Radiology and fellowship in Vascular & Interventional Radiology at Duke University Medical Center in Durham, NC.
The aspect Dr. Gebhard says he enjoys most about his job is "minimally invasive cancer therapy."
Outside of work Dr. Gebhard is an avid football and basketball fan. He also enjoys running, hiking, camping and spending time with family.