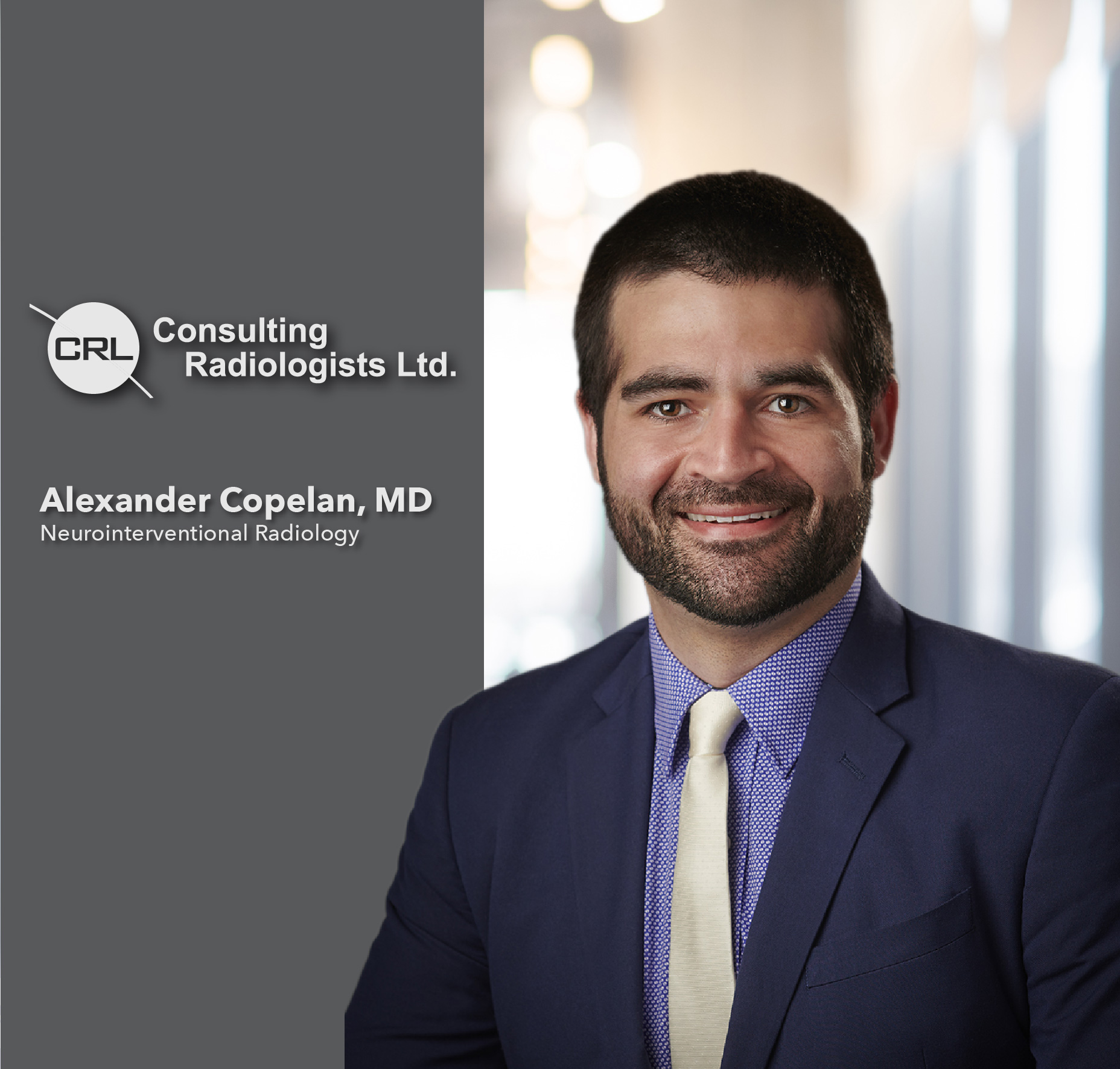 Dr. Alexander Copelan joins CRL's Neurointerventional Radiology Section at the leading center for neurological care in the Twin Cities and Upper Midwest
Dr. Alexander Copelan joins Consulting Radiologists, Ltd. and the highly-skilled team of physicians in our Neurointerventional Radiology Section at CRL's hospital partner and the leading center for neurological care in the Twin Cities and Upper Midwest,  Abbott Northwestern Hospital Neuroscience Institute.
Dr. Copelan is originally from Columbus, OH and began his education at Johns Hopkins University. He earned his medical degree from Loyola Stritch School of Medicine in Maywood, IL followed by a residency in Diagnostic Radiology at William Beaumont in Royal Oak, MI where he also served as chief resident. He then crossed the country completing his fellowship first in Neuroradiology at the Hospital of the University of Pennsylvania in Philadelphia, PA and then Neurointerventional Radiology at the UCSF Medical Center in San Francisco, CA.
Dr. Copelan said he became a provider because "I have always had empathy for those in need and have wanted to help people from as far back as I can remember. My parents are physicians, as were both my grandfathers, and I saw the gratification they experienced in their careers and wanted to be a part of this special community." When asked what he enjoys most about being a radiologist, Dr. Copelan tells us that he appreciates the opportunity to treat patients with potentially life-threatening cerebrovascular diseases through a minimally invasive approach.
The challenges of Neurointerventional Radiology can be rewarding, according to Dr. Copelan one aspect of this is, "the time-sensitivity of treating patients with stroke due to large vessel occlusion as every second truly counts. You have the opportunity to treat patients who come into the hospital paralyzed on one side of their body and unable to speak and those same patients may walk out of the hospital speaking normally a couple of days later." Dr. Copelan also learns from his patients, for example, he finds that "Taking an extra couple of minutes to explain the disease or the procedure, oftentimes drawing a quick sketch, means a great deal to them."
Outside of work, you'll find Dr. Copelan spending time with his wife and two young daughters and that he is most proud of the man and father he's become since the birth of his eldest daughter in 2016. He also enjoys exercising, traveling, and is an avid fan of college and NFL football so it's perhaps not surprising that his second choice of career would have been sports journalism.