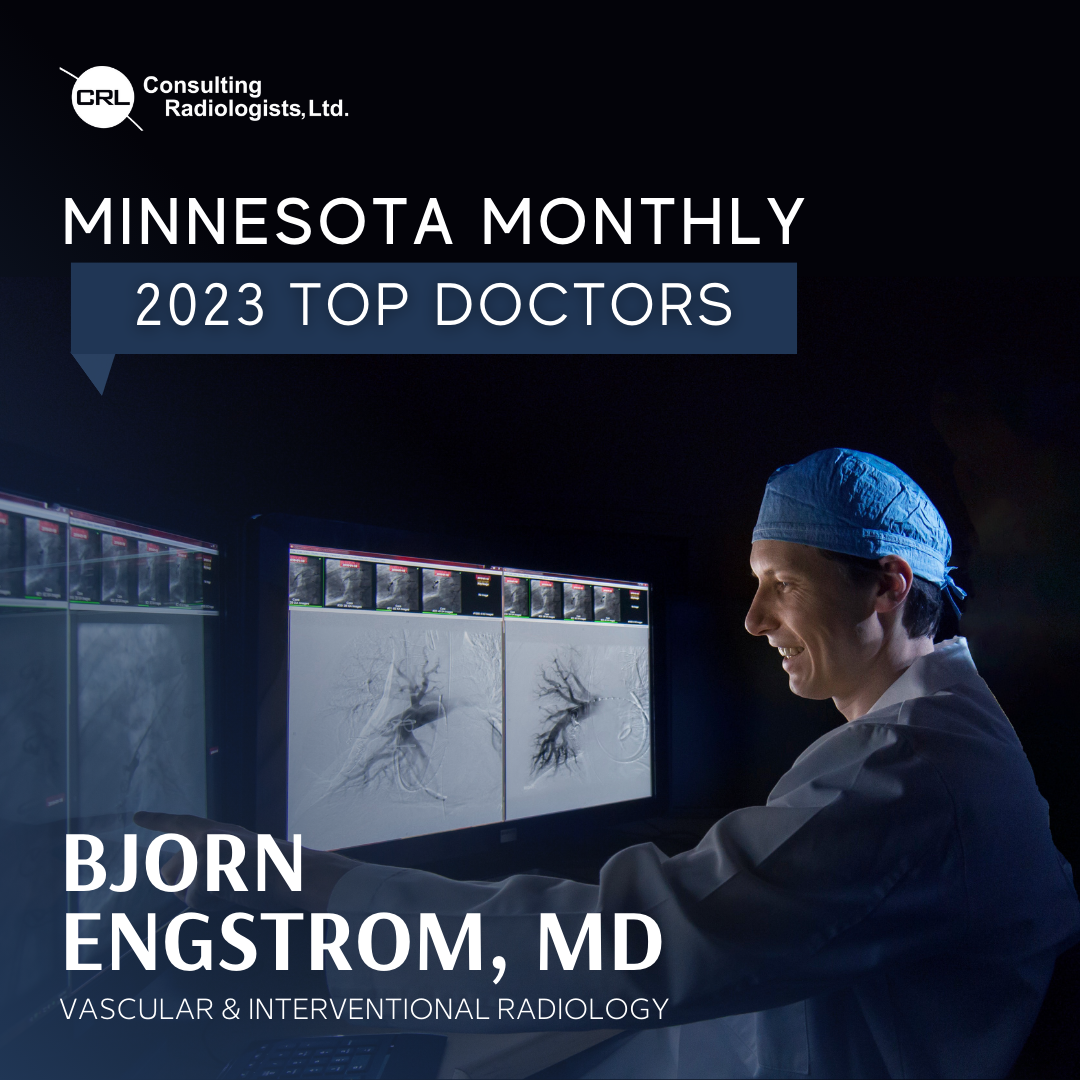 Dr. Bjorn Engstrom Honored As MN Monthly Magazine 2023 Top Doctor
Choosing a doctor when you or a loved one requires medical care can be challenging. MN Monthly Magazine conducts an annual survey of thousands of licensed physicians from the Twin Cities 11-county metro area and Olmsted County to determine which doctors they would choose for themselves or recommend to a friend or family member. Each doctor can nominate up to three doctors in each specialty. The Top Doctors list for the year is comprised of physicians who have received the most recommendations.
We congratulate Dr. Bjorn Engstrom on being named one of the 2023 MN Monthly Top Doctors by his peers. It is a repeat honor for Dr. Engstrom, who has previously been selected as a Mpls.St.Paul Magazine Top Doctor Rising Star for three years in a row beginning in 2019.
Dr. Engstrom serves on the Board of Directors at Consulting Radiologists, Ltd. (CRL) and is a valued member of our highly trained team of vascular and interventional radiologists and advanced practice providers who work closely with other medical specialists at Abbott Northwestern Hospital in Minneapolis, MN, and Ridgeview Medical Center in Waconia, MN to develop tailored treatment plans utilizing state-of-the-art technology to provide accurate diagnosis and treatment for a wide range of medical conditions. By harnessing the power of medical imaging, such as X-rays, CT scans, and ultrasounds, these specialists perform complex, minimally invasive interventions to treat conditions like blocked arteries, aneurysms, liver tumors and more, often achieving better outcomes with fewer risks and shorter recovery times than surgery.
We are proud of Dr. Engstrom and all the radiologists at CRL's subspecialty radiology practice who, along with our hospital partners, provide a patient-centered approach focused on providing compassionate, comprehensive, and efficient care throughout the entire treatment process.